Ninja Joe for Windows Phone Now Available!
October 24, 2012
No Comments
A fantastic new platformer by game publisher Amnesia Games titled  "Ninja Joe" is now available! check it out below!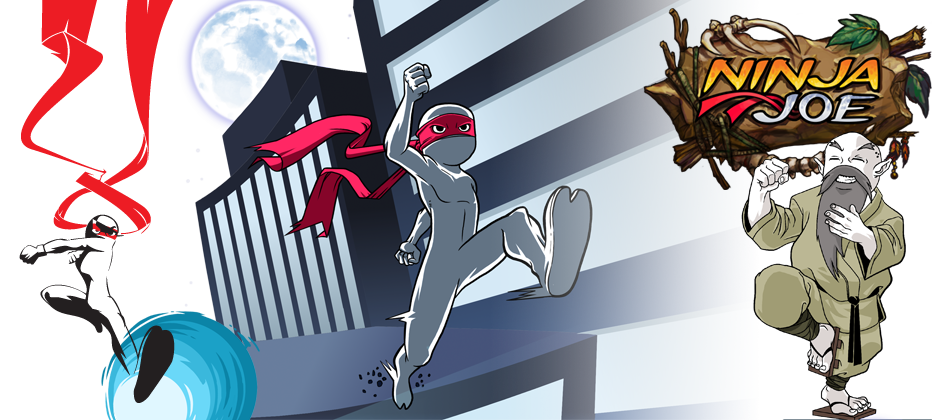 Joe travels to the past to the age of dinosaurs. He must find the mystical stone to save his Ninja master from a terrible curse. Guide Joe through 3 worlds, evade obstacles and defeat the smart velociraptors.

Runs across the rocky desert, the rain forest and the White Mountain beats velociraptors powerful bosses and stay with the girl in the story!

Ninja Joe travels to the past to find the gems mystical medicinal cure his master of a mysterious disease.
 
Ninja Joe includes:
– 25 levels, and three secret gems per level
– 3 heads and a tutorial level
– 30 challenging achievements
– Velociraptors on skis!
– Three different worlds: Rocky Desert, Rain Forest and White Mountain
– Infinite Career Mode, where you must run as far as you can.
– Final secret of history!
– Intuitive gesture-based control
– Original Soundtrack
– Control based on gestures: four movements of your finger on the screen (+ combinations) control to Joe. You only need one finger to play! 
– Very balanced design levels: the difficulty starts easy and progresses metered. Tested by many real users. Joe's skills will be igniting with dialog on the screen as the game progresses. 
– Can be enjoyed by both casual and advanced players. The difficulty curve is designed for an average player, but more casual players can use the button "back in time" to overcome the most difficult challenges. 
– More advanced players will enjoy finding the 3 hidden gems in each level, trying to complete all the achievements and also have the endless game mode! Magic moments: 
– When the player learns new skills that give you access to new ways to play – The first time the player combines skills or used in an unusual way. 
– The boss battles are all different and velociraptors are important points in the development of history. Each head is overcome with the skills learned so far. 
– There is a surprise ending and if you manage to collect all gems.
More information on http://www.amnesiagames.cl/games_ninjajoenew.html
Ninja Joe has a free trial or is available to buy for only $1.49. Download it here
UPDATE: We just got word from Amnesia Games that Ninja Joe is also slated to be released on the Windows 8 OS this Friday! pretty cool indeed…mbgw

Tags: Game, joe, Ninja, Platformer, xbox
About, Apps, Featured, Games, News, Reviews