Fujitsu Announces Windows 7 Phone… Yes the PC OS Not WP7!
July 21, 2011
No Comments
What is Fujitsu doing? Not only do they announce a phone today runnings Windows 7 (Not Windows Phone 7) but their mobile mode isn't WP7 either.
They call the device the F-07C, it is running full Windows 7 on an Atom processor. It comes with Microsoft office and any other applications you might find in a new Windows 7 machine. It also features a button that switches it to mobile mode'. The device will be only available in Japan and looks to just be directed to a niche market. The device will be available for purchase on Friday July 23rd 2011. Would any one here be interested in such a device? Check out the details, images and video below…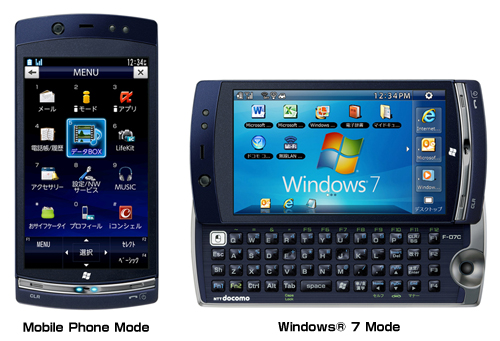 Product Features
1. World's smallest Windows® 7 PC
Fully equipped with basic PC features
With Windows® 7, an Intel® Atom™ processor, memory and a solid-state drive, the F-07C features functionality identical to that of a PC.
Includes a two-year Microsoft® Office Personal 2010 license(3)
The mobile phone comes standard with latest versions of common applications that are essential for business. Users can carry Office data that is employed company-wide with them on the go, making it possible to easily revise data while in the field.
Features Windows® Internet Explorer® 9
The latest version of Windows® Internet Explorer® 9 features improved screen display performance, as well as a simple and easy-to-use user interface. Moreover, the mobile phone also includes Adobe® Flash® Player and Silverlight®, making it possible to browse a wide variety of websites.
Focus on innovative operations and ease-of-use
A QWERTY keyboard layout, which can be operated the same as on a PC, makes text input smooth, and a trackball and left-click button enable simple mouse-like operations. As a large volume of information can be displayed on the mobile phone's 4-inch (1024 × 600) high-resolution LCD screen, scrolling is hassle-free when browsing the Internet.
2. Convenient mobile phone features like Osaifu-Keitai and security functions can be used without any special procedures
Supports a wide range of services from Docomo
The mobile phone supports i-mode mail, as well as Osaifu-Keitai®, i-channel, i-concier, Oazukari Service for mobile phone data, and the latest services from Docomo, thereby giving owners access to features they are accustomed to using.
Advanced security features
F-07C also supports i-mode services like Omakase Lock® and Mobile Phone Location Service™. In the event that the mobile phone is lost, users can remotely lock it and determine its approximate location, enabling worry-free operations.
3. Can be connected to peripheral devices with a USB/HDMA cradle set (sold separately)
By hooking up a keyboard or mouse to the USB port, users can easily edit Office files or connect to a printer to print. In addition, after connecting the mobile phone to a large-screen TV via an HDMA output connector, users can enjoy websites or captured photographs on the big screen.
Product Specifications
Size: 125 × 61 × 19.8 mm (19.8 mm at thickest point)
Weight: 218 g (with battery pack)
Continuous Standby Time: ~600 hours in FOMA 3G
Continuous Talk Time:
   ~370 minutes in FOMA 3G voice mode
   ~170 minutes in videophone mode
Display: ~4″ wide SVGA touchscreen (1024 × 600 resolution)
Camera: (back side) 5.1 megapixel effective resolution, CMOS sensor
   (inside) 0.32 megapixel effective resolution, CMOS sensor (0.17 megapixel in Windows® 7 mode)
Color: Navy Black
Windows® 7 mode
OS: Windows® 7 Home Premium 32 bit Full Version (with SP1)
CPU: Intel® Atom™ Z600 processor (supports HT technology) (1.20GHz)(4)
Main memory: Comes standard with 1GB/max 1GB (LPDDR400)
SSD: ~32 GB (eMMC)
Wireless LAN: IEEE802.11b/g/n (communications speed: up to 65Mbps)(5)
Windows® 7 battery life: ~2 hours(6) in Windows® 7 mode
Tags: Fujitsu, pc, Windows 7, Windows Phone, WP7
News, Phones